Check out our newest complete feed: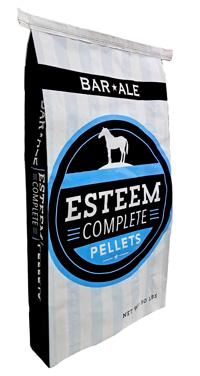 Pelleted complete feed to adapt to your feeding program.
Can be used with or without hay!
Whether your horse is a companion, a hard worker, a playmate or competitor, they all need roughage in their diet.
Find the flavor that's right for your horse:
We currently have Alfalfa, Timothy Grass, Meadow Grass, Orchard Grass/Alfalfa Mix, and a three-way grain hay (Beardless wheat, Rye, and Oat mix). Orchard grass is currently in limited supply, so we recommend to call ahead.
Hay pellet flavors include: Alfalfa, Oat, Alfalfa/Oat Mix, or Timothy Grass. Hay cubes are also available or can be ordered.
Bedding
If you're looking for bedding for your horse or livestock we have wheat straw, pine shavings, cedar shavings, dry den bedding pellets, and PDZ deodorizer.